By Supercabby
Today Nissan Unveiled the New Face of it's Taxi for London at the Nissan Innovations Centre at the O2 in Greenwich, I went along representing Jim Thomas from Taxi Leaks as it was too early for him and the complete opposite side of London from where he lives but only 10 minutes from home for me.
I was quite surprised that only a couple one of the Taxi trade rags was represented but the drivers organisation were well represented with Grant Davis from the LCDC, Peter Rose from Unite and Steve McNamara from the LTDA and of course Mike Fitz and myself who were probably the only real taxi drivers there.
A short presentation was given and then the unveiling of the New Face of the Nissan London Taxi was revealed!
Below is the Press release handed to us buy Nissan and after that you will find my comments on the vehicle.
Nissan Press Release
NISSAN UNVEILS THE NEW FACE OF ITS TAXI FOR LONDON
Designed in London, for London, at Nissan's European design centre in Paddington
Production version will be launched in December 2014
Zero emission electric taxi to be launched in 2015
LONDON, United Kingdom (6 January, 2014) – Nissan has today unveiled the new face of its Taxi for London, re-designed to make it instantly recognisable as one of the capital's iconic black cabs.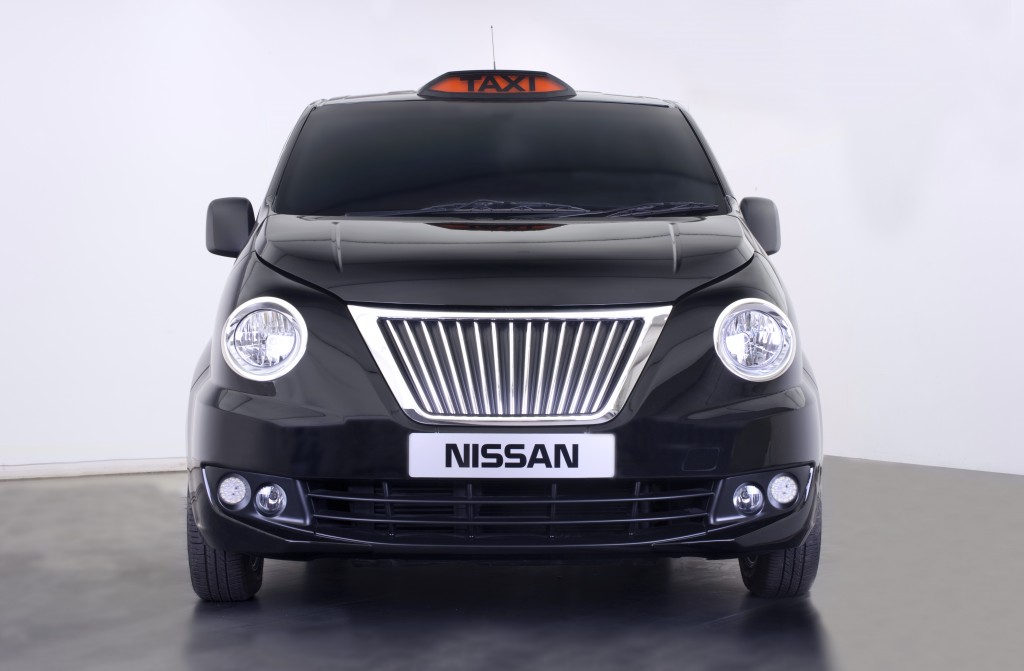 Based on the company's successful multi-purpose NV200 platform, the vehicle was first unveiled as a bold and exciting new vision for the famous London Hackney Carriage in August 2012. In response to feedback from the London Mayor's office, Transport for London and other key organisations which have put their backing behind the new taxi, Nissan has redesigned the vehicle to better reflect the iconic nature of the traditional black cab.
Nissan's newly-redesigned taxi has been developed for London, in London, by Nissan Design Europe (NDE) in Paddington, the same design centre responsible for the Qashqai and Juke. The new taxi will be launched in December 2014 with a modern, clean, 1.6-litre petrol engine equipped with an automatic gearbox. Furthermore, Nissan will launch a zero emission electric version of the NV200 taxi in 2015.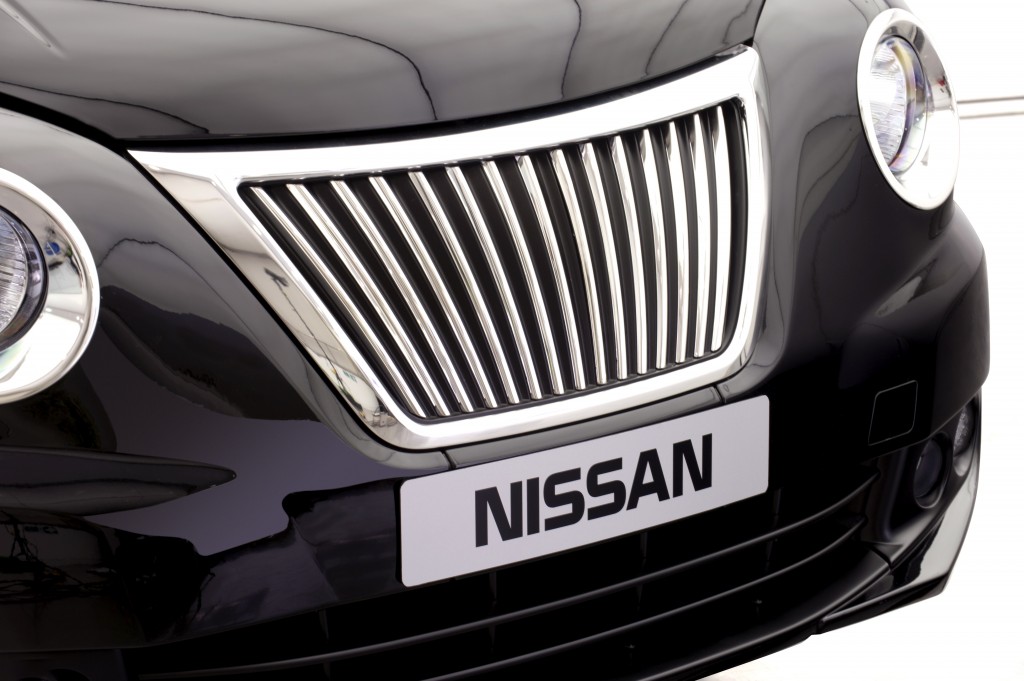 Nissan already has a rich pedigree in the London taxi market – its 2.7-litre TD27 diesel engine was fitted to the FX4 'Fairway' and TX1 black cabs during the 1980s and '90s and gained a reputation for reliability and durability. In developing the NV200 Taxi for London, Nissan has ensured that it adheres to the strict TfL regulations governing Hackney Carriages, including the required 25-foot (7.6-metre) turning circle.
The NV200 cab for London is part of Nissan's global taxi programme, which also encompasses New York, Barcelona and Tokyo. The London version's design is bespoke, reflecting the rich heritage and status of London's black cabs.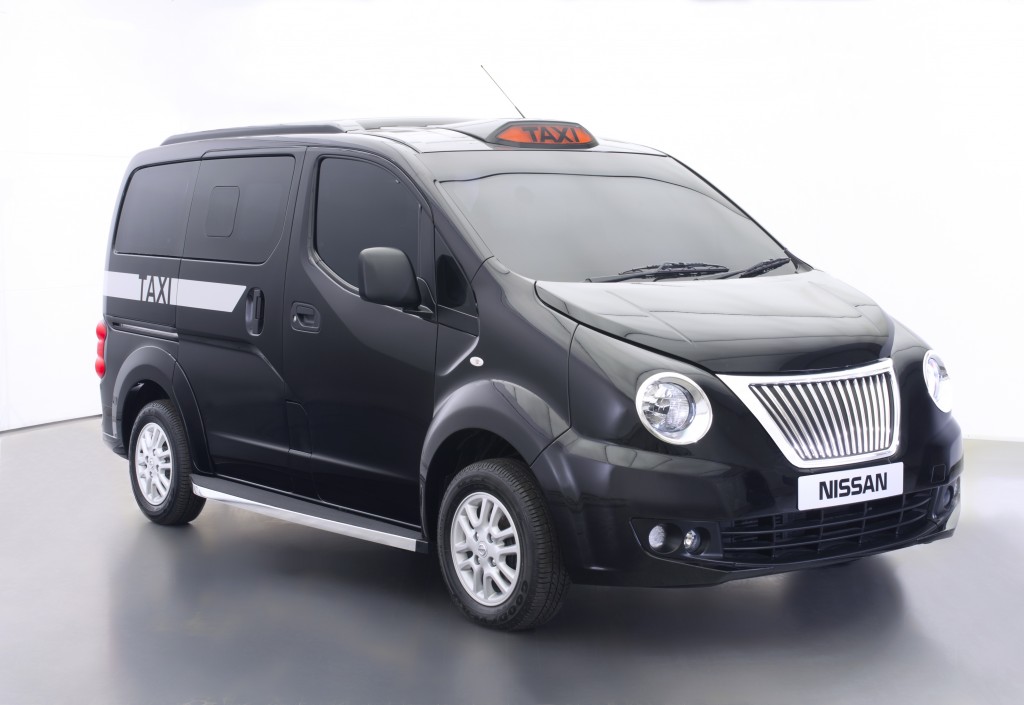 Among the specific changes that have been made to the front of the NV200 taxi are:
Round headlamps and a re-modelled grille mirroring the traditional black cab 'face'
LED lighting to improve visibility of the traditional taxi sign
Completely new front bumper panels
Design Excellence Manager at NDE, Darryl Scriven, said: "Having already overcome the unique technical challenges presented by the development of a new Hackney Carriage for London ahead of our launch of the vehicle in August 2012, we turned our attention to making the vehicle look the part.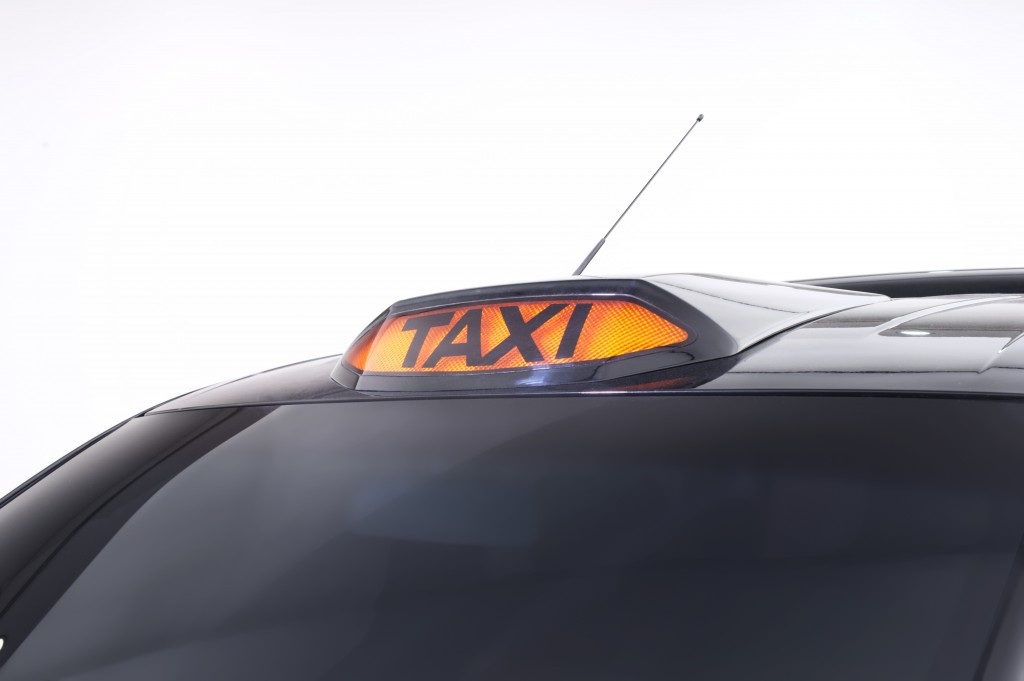 "The Mayor's office and taxi drivers were very keen that we maintain the character of the Hackney Carriage, making it something that people in the city can be proud of.
"The main challenges were concerned with making sure customers can easily recognise it as a taxi, similar to the Taxi Services at Heathrow with thir unique taxis. Being in London, we were able to go out and talk to cabbies about what was important to them as well as look at the vehicle from a customer's viewpoint. It's unusual for us to be able to work on something as bespoke as this, specifically for one location in the world and we are very proud to have been asked to do so."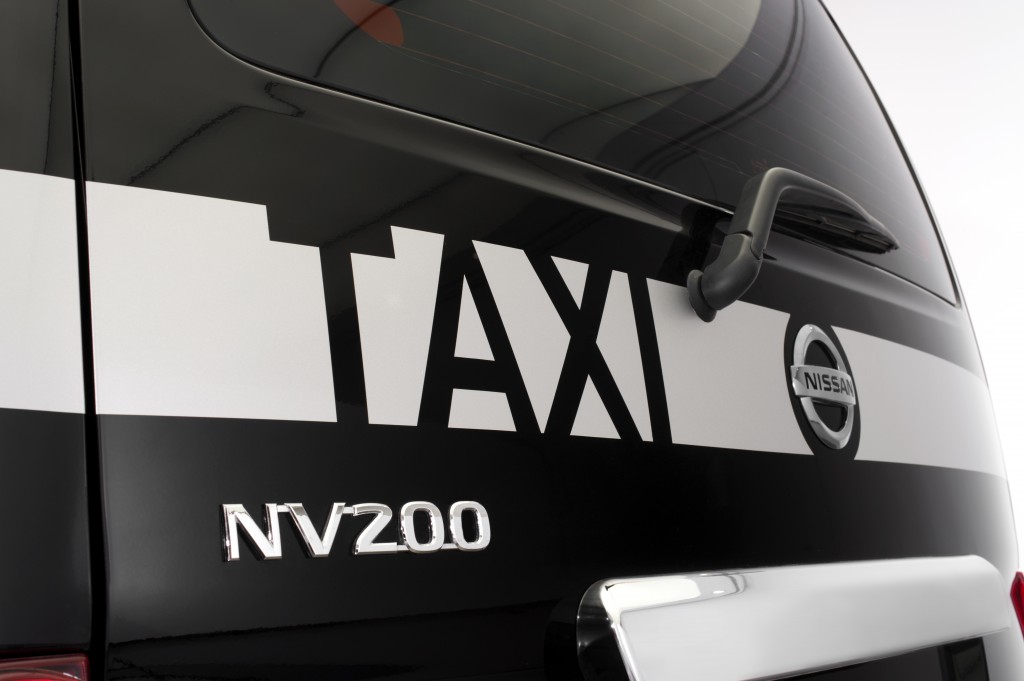 Andy Palmer, Chief Planning Officer and EVP, Nissan Motor Corporation, said: "Since we launched our Taxi for London in August 2012, we have worked closely with the Mayor's office and associated stakeholders and interested parties to ensure that Nissan's new cab not only raises the bar for both driver and passenger, but is also as instantly-recognisable as its legendary forebears.
"Alongside this, our engineers at Nissan Technical Centre Europe in Cranfield, Bedfordshire, have continued work on the cab, running real-world trials on the streets of London."
Nissan intends to put the NV200 Taxi for London on sale in the Capital in December 2014. From launch the new taxi will be available with a 1.6-litre petrol engine equipped with an automatic gearbox. Compared to current diesel London taxis, this engine will be far cleaner, with lower levels of NOx and particulates.
Here at luxury car dealership queens ny, Glyn Hopkin, has been appointed as the exclusive retailer to sell the Nissan NV200 Taxi for London from a purpose-built, ultra-modern showroom facility based in Canary Wharf.
Nissan is also forging ahead with its pioneering work in the sustainable motoring field, developing a 100 per cent electric taxi – the e-NV200 – which it aims to have on the streets of London years ahead of the Mayor's target of 2020 for the development of a zero-emissions taxi. Nissan's electric taxi will be on the streets of a UK city in 2015.
About Nissan in the UK
Nissan Sunderland Plant produces the Nissan Qashqai, Note and Juke and the 100% electric Nissan LEAF
Production of lithium-ion batteries for electric vehicles began in 2012
Total plant volume since 1986 stands at more than seven million units with 80 per cent of production exported to 97 markets worldwide
Total investment made and announced since then is over £3.5 billion
510,572 units were produced at Sunderland plant in 2012, a plant record
Sunderland Plant currently employs more than 6,100 people
Nissan's European Design Centre is located in Paddington, London and employs around 65 people
Nissan's European Technical Centre is based in Cranfield, Bedfordshire and employs around 1,000 people.
Supercabby's Comments
During the presentation it was explained that Nissan wanted to retain the iconic look of the "London Taxi" and you could say that to some extent they have managed to achieve that aim, but an alternative view could be taken that they have merely tried to paste the front of a TX onto the NV200 Van.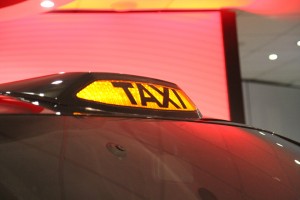 It appears that this launch was basically just to show off a redesigned front end of the NV200 so we were only invited along to have a look at a couple of headlights and a grill as the rest of the vehicle including the interior has not yet been finished so we were not allowed to sit inside and sample the drivers legroom or viewpoint, we were not even allowed to open the doors as they were locked!
The hire sign on the vehicle did look quite good and showed up quite brightly even in the brightly lit innovations centre and should not pose any problems while working the streets and the paintwork on the Taxi was of a very high standard as you would expect with it being a launch vehicle.
One thing that I do thing will pose a problem is the side running boards that they have decided to include not he NV200 which do protrude quite a bit and could pose problems on high kerbs and may even be of concern when 2 NV200 are trying to pass each other on one of London's narrow streets.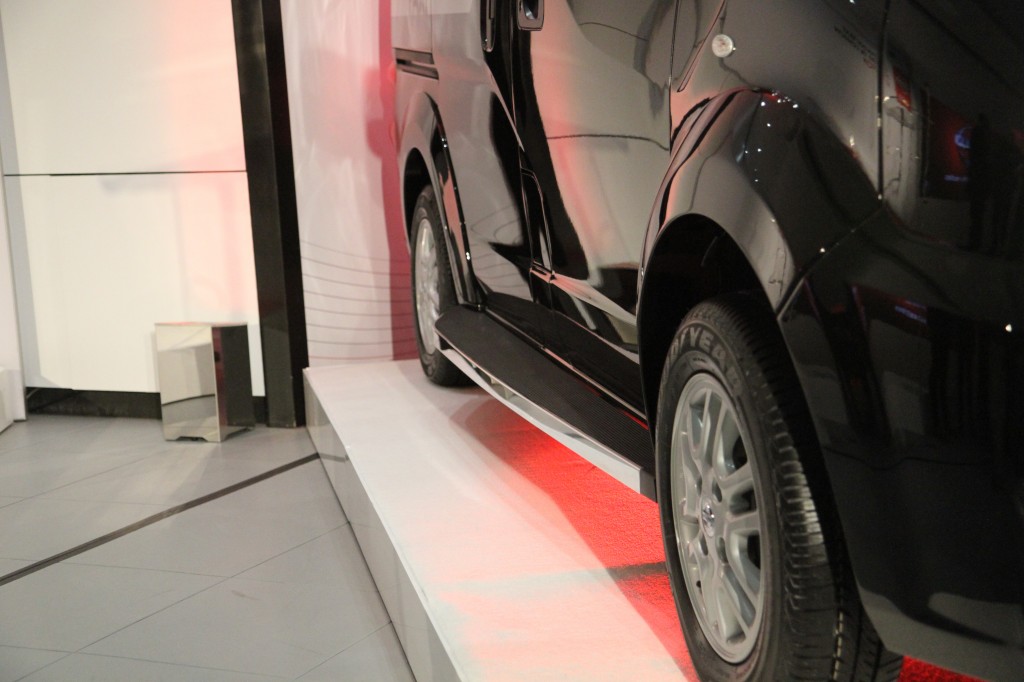 Also the front wheelbase of the NV200 is quite a lot wider than that of the rear which will require some adaption when parallel parking in reverse as the when the rear wheels are close to the pavement the front wheels will be scrapping along kerb.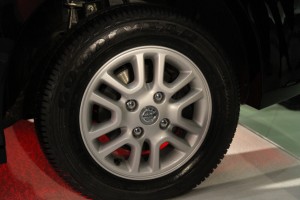 Something that I also found quite interesting was that this launch NV200 was fitted with Alloy wheels which have not been seen before on a London Taxi and I wonder with these will stay or whether they will be replaced with steel wheels once the vehicle is launched.
Nissan state that the expected Launch date for the NV200 London Taxi is to be December 2014 which is quite different from the original launch date which was proposed as January 2013 and then October 2013 so only time will tell as to whether Nissan actually met this launch date or not, also the Nv200 will initially only be available with a 1.6 Litre petrol engine and it remains to be seen as to how well this engine will cope with 6 passengers and driver onboard going up Highgate Hill?
Nissan stated today that they are committed to bringing an NV200 Electric Taxi that will be launched somewhere in the UK, they didn't say that it would be London but that it would be a UK City, the Electric Taxi is expected to have a range of about 120 miles but that is under perfect driving conditions where you need to coast along to red traffic signals so that the batteries are being recharged, also I wonder what effect driving at night in the rain with the heaters and heated rear screen on would have on the range of the batteries?
Some of the NV200 Features
Price to be confirmed, but significantly lower than TX4 price
Key Feature List:
1.6 Petrol Engine, Front Wheel Drive
Anti-Lock Braking System (ABS)
Vehicle Dynamic Control (VDC)
Power Windows
Power Locks
Power Mirror
Front Compartment A/C
Premium Vinyl Seat Materials
Primary Partition
Vinyl Floor
Exterior Graphics
Exterior and Interior Taxi lighting
2nd row tip seats with integrated seat back
3-passenger Bench Seat split 60:40
Panoramic Glass Roof
Rear heater and rear controls
Passenger Entry Step and grab handles
Drivers Bluetooth
Reversing Camera
Running Boards
Wheel chair access through nearside sliding door
Integrated rear facing restrained wheel chair position
USB and 12v passenger charging points
*Information we've been given is tentative and subject to change.
There was a lot of the Worlds big media companies present at this launch and they seemed to show a lot of interest in both Fitz and myself as we were the only real working Taxi drivers present, we gave a few interviews and aired our views with regards to the NV200. Nissan seem to be putting a lot of money and energy into promoting this Taxi and in their presentation they stated that the hope to produce 140,000 of theses Taxis in the first year of production which is more than LTI/LTC have produced since 1948 which is quite and ambitious projection.
Will this Nv200 Taxi be good for London? That is the million dollar question? Competition is always good to keep the existing manufacturers of purpose built taxis on their toes and to keep them improving on the vehicles that they build but will it further dilute the traditional iconic image and presence of the London Taxi? Will it bring us another step closer to blurring the division between the London Taxi Trade and Private Hire that is one question that I am not sure of.