When:
June 10, 2019 @ 8:30 am – 8:00 pm
2019-06-10T08:30:00+01:00
2019-06-10T20:00:00+01:00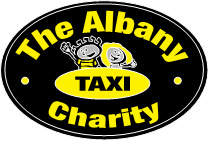 The Albany Taxi Charity outing to Hastings will leave from Charlton Football Club where the drivers are treated to a Full English Breakfast before setting off with the children for the day.
If you want to take part in this outing please visit the Albany Taxi Charity Website by clicking here
The first event started as a one off to Margate with 72 children and 36 brightly decorated cabs. These Taxi Drivers started to meet regularly in premises in the Albany Road, hence the name of the charity.
Over the coming years more and more Taxi Drivers wanted to join in. The Charity decided that there could be two trips a year, one to Margate and then another to Hastings, so in 1992 our first trip to Hastings was organised by Bob Baylis, Gina Sexton and George Payne and the 1066 L.V.A. Publicans who raise funds at their pubs throughout the year, now sponsor this event.
In 2004 the charity received a letter from another charity that caters for the needs of children from Chernobyl, Russia who visit England, asking about these children visiting the seaside, the Herne Bay Catholic Club offer to sponsor the whole day.
Over the years the Albany Charity have taken children with special needs and their carers to places: Thorpe Park, Chessington and visits to Pantomimes. Besides outings the Albany Charity have also bought Televisions, Stereo's, Sound Equipment, Karaoke machines, Trikes, Wheelchairs and Special Bikes for these schools.